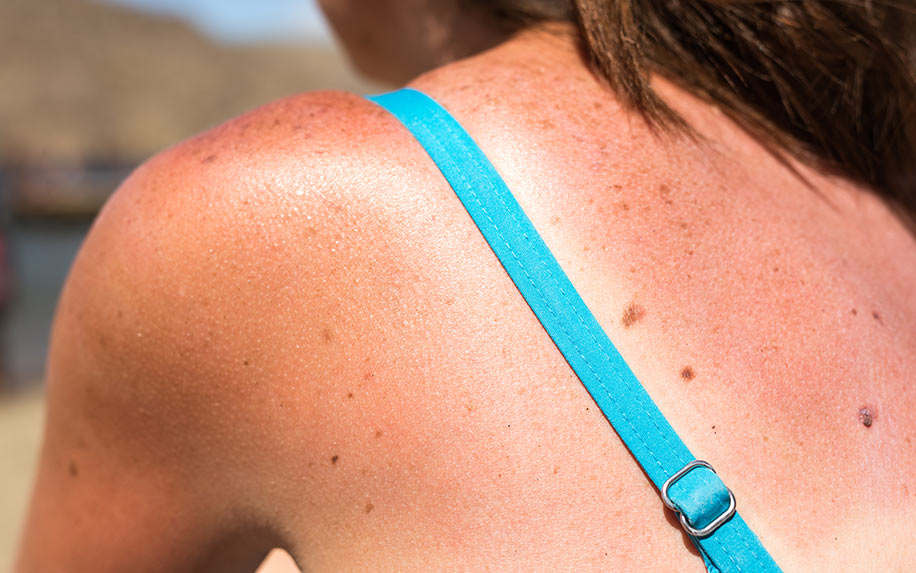 There are many things to love about summer, but sunburns aren't one of them. Coming home from the beach with red, painful skin is an annual tradition that most would prefer to avoid. And with CBD being touted as the most revolutionary advance in skin care since, well, ever, some have wondered if it might be the solution for sunburns too.
At the moment there's little scientific evidence to confirm this theory. However, there's reason to believe it's not that far-fetched. The body's endocannabinoid system is known to regulate both pain and inflammatory responses — and pain and inflammation are often the two worst parts of a sunburn, aside from the embarrassment. And while no scientific studies have specifically examined CBD's effects on sunburns, research has shown it to be effective in similar contexts. For example, a 2017 study in Frontiers of Pharmacology showed that topical CBD could reduce pain at the site of incisions (though it should be noted that the experiment was conducted on rats).
Because of the damage caused to the skin by excessive sun exposure, with severe symptoms that include itchiness and peeling, there is also a risk of infection. CBD has recently been shown to be a highly potent antibiotic, and it's already being used in products like antibacterial soap to help prevent infections.
CBD Products That May Protect Your Skin From the Sun
If an ounce of prevention is worth a pound of cure, CBD sunscreens may be a strong first line of defense. In addition to the standard ingredients, these products are rich in the fatty acids found in the cannabis plant, which help create an extra layer of SPF on the skin (and also, potentially, help prevent wrinkles). People in states where recreational cannabis is legal can also try THC-rich products such as Evergreen Organix's SPF+THC sunscreen, which has 100 mg of the cannabinoid). However, since CBD also has anti-aging properties, you're not missing much if you live in a place where THC-rich products are banned.
These can be surprisingly affordable (Canisun's 50 SPF sunscreen costs just $20, for example), though many of the less expensive varieties provide little information on their ingredients, so you'd be wise to approach them with caution.

But what if you're already burned? In this case, a CBD balm might be what you need. Like aloe vera, it can be applied after the fact to soothe hot, painful skin. They come in a variety of forms, including the Formula Swiss CBD Balm or the Lord Jones' High CBD Formula Body Lotion. These can be a bit pricier — the Lord Jones version goes for $60, but it also comes with proof that it was tested in a third-party laboratory for quality and purity, so at least you can be more confident that it contains what it claims.
But Do They Actually Work?
The biggest question about CBD sunburn products is whether or not they work. At this point, there's no clear answer — no scientific studies have examined them in detail, so consumers are left to depend on anecdotal reports like the one from VICE wellness editor Rajul Punjabi, who, after suffering an unpleasant burn, "slathered a bit of it on and felt an immediate cooling effect." Punjabi was impressed enough by the results to wonder, "Could CBD replace aloe vera for sunburns? Could this be a skin revolution?"
However, CBD might not replace aloe vera so much as complement it. Many of these products contain similarly skin-soothing ingredients like shea butter, jojoba oil, and other essential oils — making it hard to know what exactly is doing the real work.
The good news is that there aren't any significant side effects associated with CBD, so the only real damage done when experimenting with CBD for sunburns is to your bank account — your skin has suffered enough already.