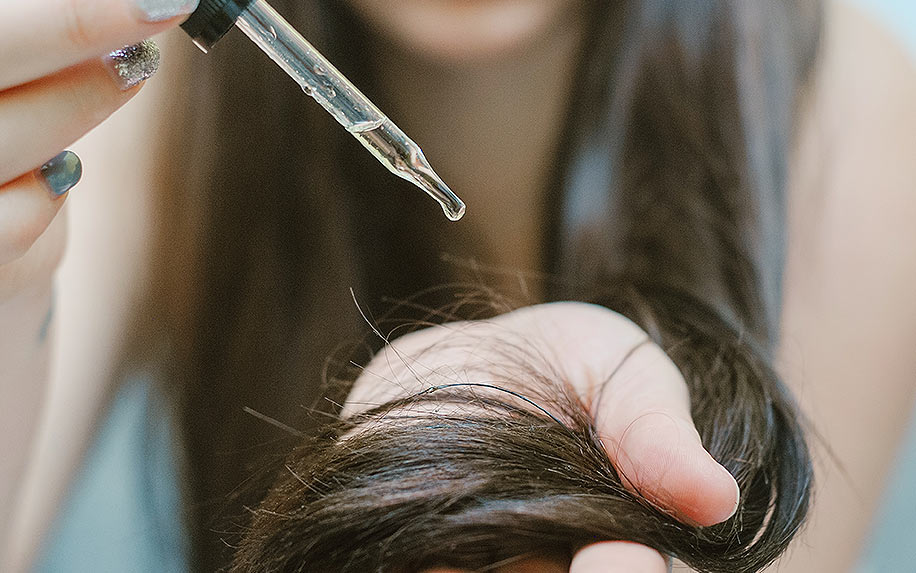 Cannabis-infused hair serums are some of the latest beauty products to be pulled into the cannabis-craze. Beauty editors are in love — and why not? They don't pay for these products! — but for those of us who have to shell out our own cash for our hair care, are cannabis hair serums worth a try?
Maybe. But first off, what exactly do we mean by "cannabis hair serum"? And why would anyone want to put cannabis in their hair?
When beauty brands say a product contains cannabis, what they often mean is that it contains hemp seed oil. Extracted from the hemp plant by pressing the seeds, hemp seed oil — sometimes known as hemp oil or cannabis sativa seed oil — is a heavy hitter in the moisture department: rich in omega fatty acids, gamma linolenic acids, and vitamin E. One thing it doesn't have? CBD, so if that's what you're looking for in a hair serum, make sure you see those exact letters on the packaging (and preferably, a third-party lab report too, to make sure it's legit).
But back to hemp oil. In the skin care world, it's actually not new at all. Hemp oil has been used in folk remedies for centuries to moisturize dry skin, reduce inflammation, and treat skin concerns like eczema, and now big name beauty brands like Kiehl's and Herbivore are cashing in.
"CBD and hemp oil stimulate and enhance the growth of hair through the scalp's absorption of the main fatty acids [found in CBD and hemp], omega-3, omega-6 and omega-9," as Julie Winter, COO and founding partner of CBD For Life, which makes beauty products made with cannabis, told the beauty blog Dermstore.
What Science Says About Hemp and Your Hair
"Hemp seed oil also acts as an emollient to smooth rough cells on the skin's surface and offers moisturizing benefits," Joshua Zeichner, director of cosmetic and clinical research at Mount Sinai Hospital, told Allure.
The same very well could apply to your hair. While there isn't much clinical research on the benefits of hemp seed oil on hair, advocates suggest that research on other oils that benefit hair likely apply to hemp seed oil. For example, a 2015 research paper published in the International Journal of Trichology showed that certain oils can protect hair from damage in several ways, including preventing breakage by enhancing lubrication of the hair shaft.
What's the Top Cannabis Hair Serum?
The cannabis hair serum most often on the tip of beauty editors' tongues is the Cannabis Sativa Oil Hair Serum from Design.Me ($24) — it's received glowing reviews in outlets like The Zoe Report and Fashion Maniac. This Canadian beauty brand's serum uses cannabis sativa seed oil, along with argan and moringa seed oils to smooth hair and add shine. It's vegan, as well as sulfate-, paraben-, gluten-, and cruelty-free.
What Real People Say: The Good
There are only three reviews on Amazon, but they all gave Design.Me's Cannabis Sativa Oil Hair Serum a five-star rating, calling this "amazing," "lightweight" serum with a "great scent," "a godsend" and "a lifesaver."
What Real People Say: The Bad
Users who understand what serum is universally praise it; voices of dissent come from those who seem confused "I thought it was a spray," one two-star reviewer said on Design.Me's site. "Guess I should have known a serum is never a spray. For me, it's messy to use. The product might be wonderful but I'll never know."
Other Cannabis Hair Products
Design.Me's cannabis hair serum may be one of the most talked about products out there, but it's not the only game in town. Malin + Goetz's Hair Pomade ($22) is made with extracts of yucca and aloe plant, meadowfoam seed, and hemp oil.
Lush Fresh Handmade Cosmetics' Jasmine and Henna Fluff-Eaze ($26) treatment takes frizzy, dry hair and gives it the hemp oil treatment. Henna adds shine and jasmine gives it that intoxicating fragrance.
For the cannabis-curious who don't want to spend a lot on their hair care experiment, Urban Outfitters' Truly Organic UO Exclusive Hemp Scalp Tonic ($10) adds vitamin B3 to the hemp oil party; together they improve blood circulation to the scalp and stimulate hair growth.
The Bottom Line
If you're already a fan of lightweight hair serums to smooth and tame dry and frizzed hair, give a product with hemp oil a try. If it has worked for homegrown hair recipes for the past couple centuries, it might work for you today.