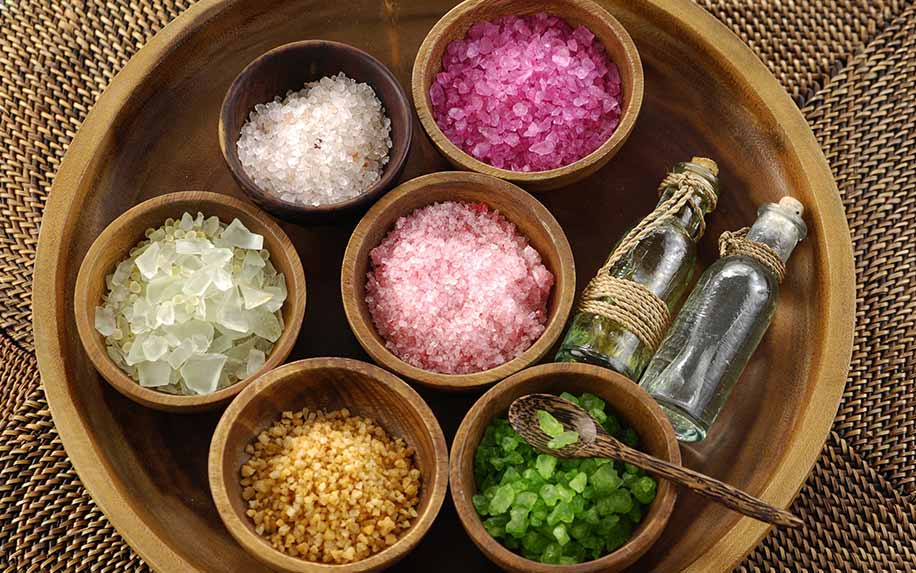 Bath salts, which are traditionally made from ingredients like sea salt or magnesium sulfate (better known as Epsom salts), have been used for centuries to soothe both the body and mind. Humans have long turned to bath salts to relieve a wide array of maladies — from headaches to itchiness to aching muscles — but could the addition of CBD make them even more effective?
CBD has become a self-care staple in recent years, and taking advantage of its purported therapeutic properties has never been easier (even while you soak in the tub). Whether you're looking for a colorful CBD bath bomb or just a simple antibacterial soap, today you'll find a plethora of options from brands touting the cannabinoid's ability to reduce anxiety, relieve pain, and/or brighten your complexion.
Like other infused products, CBD bath salts have been quietly (or not so quietly) taking over store shelves across the country. They're now being offered by multiple retailers in a wide variety of potencies and price points. Take Lord Jones, for example — its High CBD Formula Bath Salts cost $65 for a 12 oz. jar with 240 mg of broad spectrum CBD, and can be found both online and at major retailers like Sephora. At the other end of the spectrum, you'll find products like the Hemp CBD Infused Bath Salts from Vertly, which run $29 for a 6 oz. container with 50 mg of full spectrum CBD. These, too, are now being featured in prominent national retailers: You'll find Vertly's bath salts at upscale stores like Barneys and Anthropologie (or if you're feeling lazy, you can order them direct from the brand's website). 
Clearly, there's something to this trend … but is the hype really justified?
3 Important Things to Know About CBD Bath Salts
Using CBD bath salts is about as easy and intuitive as it gets — run some hot water, pour them in the tub, and soak as needed. But while you probably don't need a step-by-step guide to use them, you might be wondering what exactly their actual benefits are, if they work, or if they come with any unexpected downsides.
So to help put your mind at ease, here are three things you should know about CBD bath salts:
CBD Bath Salts Won't Get You High
Even full spectrum CBD bath salts that contain traces of THC, like those offered by Vertly, won't cause any intoxicating effects. Under the 2018 Farm Bill, which opened the floodgates to the current wave of CBD products sweeping the nation, the legal limit for THC in CBD bath salts (or any other hemp-derived CBD product, for that matter) is just 0.3 percent, which is far too low to create the high typically associated with cannabis.
If you're wondering why THC gets you high but CBD doesn't, it's because they work on different receptors in the body — CB1 and CB2 receptors, to be exact. If your eyes are already glazing over, here's a quick and painless explanation: Only THC can trigger CB1 receptors, and only CB1 receptors make you feel high. CBD only works with CB2 receptors, which are incapable of creating the same effect.
There's No Scientific Proof That They Work, Though
According to roughly 12 million blog posts, bath salts have a wide range of therapeutic effects, including the ability to ease arthritis symptoms, relieve muscle aches, soothe dry or itchy skin, and reduce inflammation. In theory, this is due to the high doses of magnesium and other helpful minerals that are meant to be absorbed through the skin. However, experts remain skeptical about this — a 2017 study in the journal Nutrients called bath salts "a scientifically not yet proven form of magnesium application." Erin Carter, an educational director at Michigan State University, put things more simply when she chalked up the healing powers of bath salts to "a placebo effect."
CBD has also attracted lots of attention for its ability to relieve a wide array of symptoms, and while the research is still preliminary, there is reason for optimism. For example, a number of studies have shown CBD is effective at relieving back pain, while its natural anti-inflammatory properties are widely recognized.
However, no clinical trials have examined whether CBD bath salts are an effective way to get those benefits. So while "common sense" might dictate that adding CBD to a popular home remedy like bath salts is a great way to maximize the benefits of both, there's no real scientific evidence to back it up.
They Have No Major Downsides (Except Maybe for Your Tub)
While the magnesium itself can potentially cause negative side effects — like diarrhea, nausea, or headaches — when consumed in large quantities, you don't have much to worry about as long as you don't drink your bathwater. Since there's little evidence that magnesium can be absorbed through the skin, it's highly unlikely that a single bath would be enough to push you over the edge.
As for CBD? It's well-known to have a positive safety profile, and, according to the World Health Organization (WHO), it poses little risk of side effects even at high dosages — which you're unlikely to find in any CBD bath salt products.
In reality, the biggest downside posed by CBD bath salts is not to you, but rather your tub. Some products have been known to leave a thick, grimy residue, which can make your post-bath cleanup a bit of a challenge and take all the soothing soak vibes away.