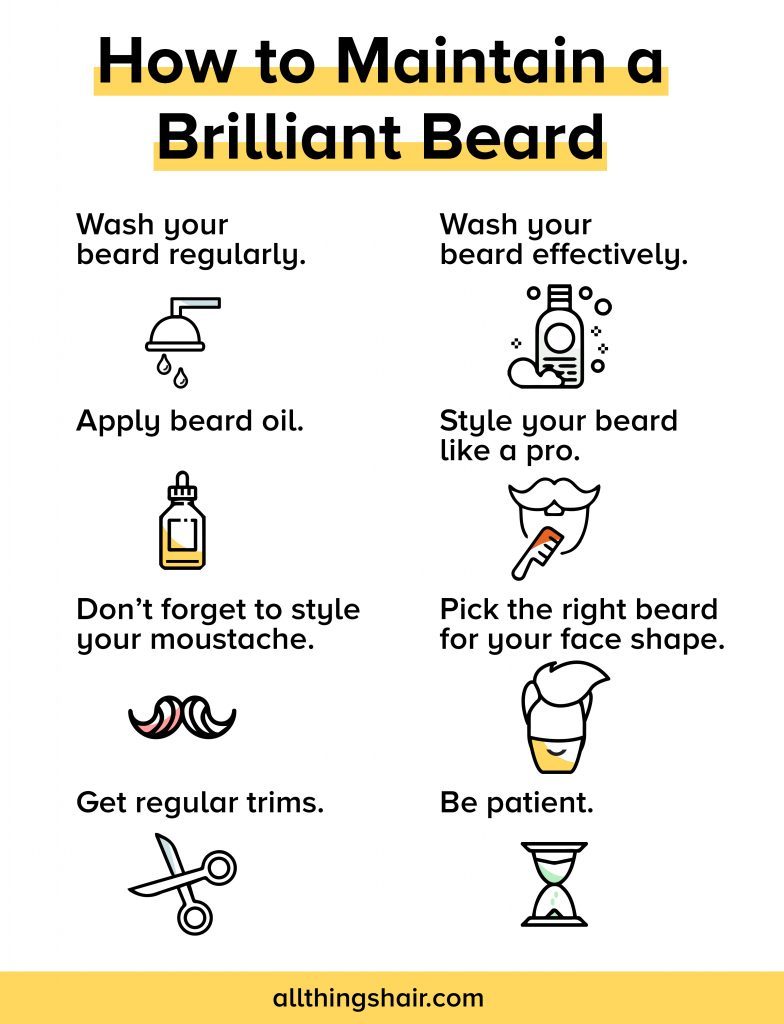 Growing a beard and styling it is an art in itself – you may be looking at bearded bloggers wondering how they seem to have the perfect beard, and though it isn't without a little TLC, it isn't as complicated as it seems!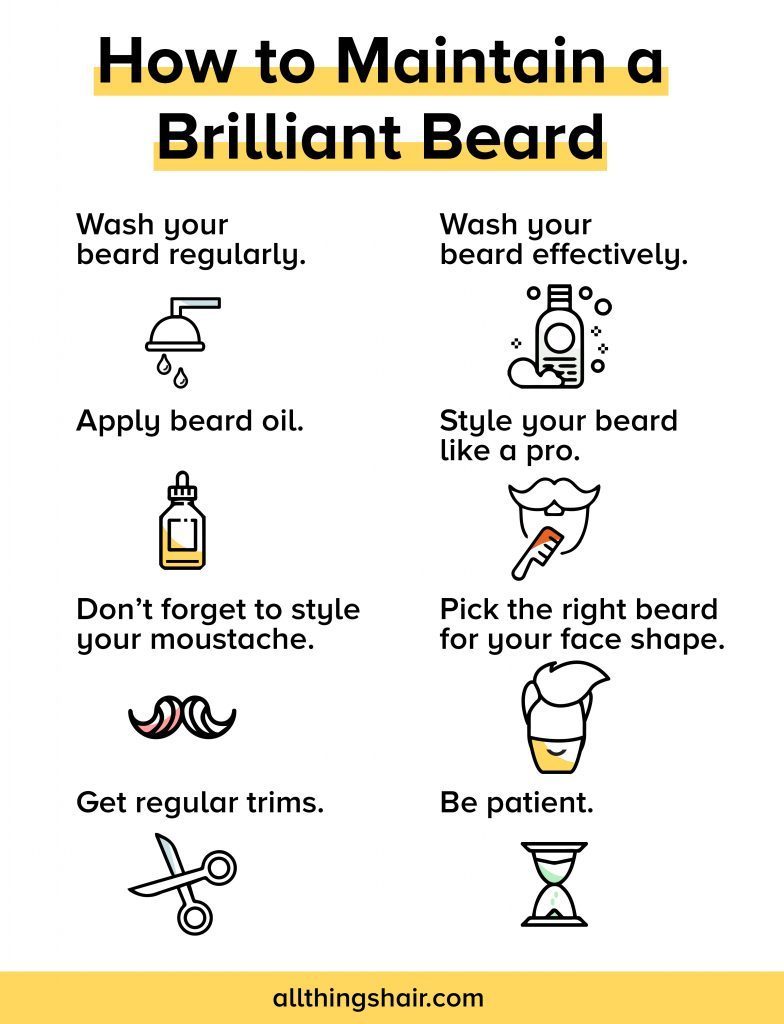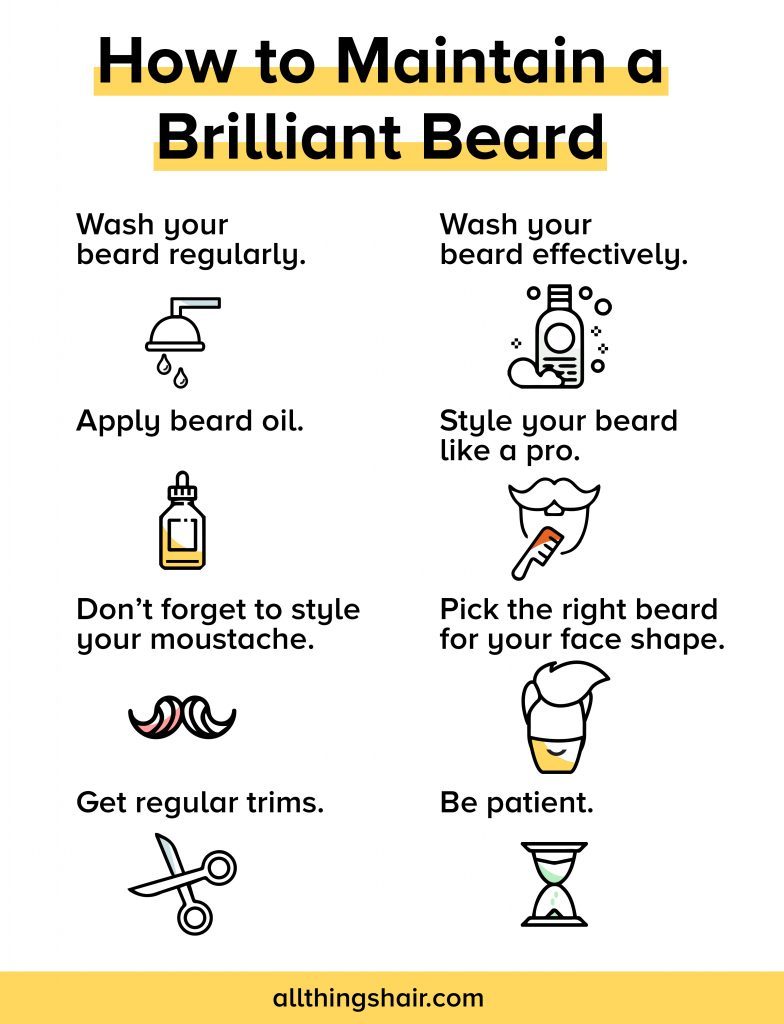 Source: https://www.allthingshair.com/en-uk/mens-hairstyles-haircuts/beard-grooming-tips-how-to-maintain-a-brilliant-beard/
Wash Your Beard Regularly
Like with your hair, you need to wash your beard regularly to remove any leftover product and residue. It will give it that smooth, barber-shop fresh look, and will make your life easier when it comes to styling!
On top of all that, your beard will look nourished and healthy – regular washes also help it feel a lot nicer on your face, and will put an end to itching.
Wash Your Beard Effectively
As well as washing your beard regularly, you need to do it effectively. It's not just giving it a quick soak and hoping for the best, you need to up your game and use top-quality products for a soft finish. You cannot use shampoo destined for the hair of your head – it will dry out your beard! Invest in a good foam cleanser that will hydrate your facial hair and your skin. In the case of a fuller beard, you can use a beard shampoo to wash your beard thoroughly without stripping your hair of its natural oils.
Understand How To Apply Beard Oil
Beard oil will give your beard that sheen and smoothness that made you want a beard in the first place! It also makes your beard easier to style, and adds moisture to the skin underneath – a happy beard and happy skin! The best time to apply beard oil is after your shower, as your beard will be clean and the pores of your skin will have opened up. However, make sure your beard isn't too wet, as you will have a bad beard day!
Style Your Beard Like A Pro
After your beard routine, to make styling easier, you need to apply a beard balm, especially when you have a medium or long length beard. Balms give moisture to your beard as well as makes your styling easier, and gives a last extra touch of shine before you head out. It also smooths down fly-aways to get that uniform shape. It's easy to apply – just warm up the balm between your hands before scrunching the product in your beard.
Don't Forget To Style Your Moustache
For those of you rocking a moustache, use wax to create the perfect shape and will hold your moustache all day. Waxes wash off very easily and don't leave any residue. Be sure to only apply a small amount and build up if necessary – the last thing you want is a greasy 'tash!
Pick The Right Beard For Your Face Shape
What will help you get the beard you have longed for is by choosing your beard wisely – like haircuts, there are beards that suit particular face shapes.
Round face shapes – Stubble or "five o'clock shadow" will add definition and highlight your jawline.
Long face shapes – Corporate, boxed beard styles will make your face shape look shorter and also give you a suave finish.
Angular face shape – Goatees will slim down your face by elongating it, a very flattering beard style!
Oval or square face shapes – The moustache, a top-heavy style will look very flattering on oval or square face shapes and give a vintage finish!
All face shapes – Though the thought may be daunting, the full beard suits all face shapes. It may seem like a challenge to grow out, but when it does, it will be very flattering. All you will have to do is tailor it!
Speaking of tailoring, it is important to get your beard trimmed regularly – it will give that perfect finish and make you look very well groomed. Even a full beard can look neat with a regular trim!
Be Patient
Though it's a long process, growing a beard can be so worth it and add a little edge and sophistication to your look. Resist the urge to shave it all off – you will regret it! Just keep it tailored, and love your facial hair, give it a bit of TLC and you will enjoy having it!